In stock
12 Volt 400 Amp Hour Lithium LIFEP04 Battery 12V 400AH
$2,499.00 – $3,099.00
BROWSE OTHER SIZES: 12 Volt  |  24 Volt  | 48 Volt |  96 Volt
Why Buy From Us?
//Free Shipping in Domestic USA (Excludes PR, HI, AK)
//Checkout Now using Paypal!
//We Will Beat any Advertised Price
//New Touchscreen Display and Customizable BMS
Description
12 Volt / 400 Amp Hour Lithium LIFEP04 Battery, Single Battery, 200A Continuous Discharge (per battery), 100A Max Input Charge (per battery), This 12 Volt 400 Amp Hour Battery is constructed using 3.2V LIFEP04 Cells in a 4S2P Configuration, Can be run in series or parallel, True 400AH Rating, New For 2021! All new batteries now includes a Touchscreen Display, available in 3.5″ or 7″, This new touchscreen display allows you to access the BMS settings adjustments and system monitoring without the need of any cables or PC, Our new standard metal case has dimensions of 400mm (L) x 320mm (W) x 9.5mm (H) (15″ (L) x 12.5″ (W) x 9.5″ (H) inches). Weight 100 – 110 lbs each depending on options, Black or White Standard Colors, Imported,  Stock Image Shown could vary by application, plugs and handles could be in different locations based on application, custom cases available for any application.
DOWNLOADS
//12 Volt 400Ah Data Sheet (pdf)
//Battery Model Comparison (pdf)
---
Lithium batteries offer stable performance with superior life cycles when compared to Lead Acid, AGM or Gel batteries, Lithium batteries are only 3 times the cost of AGM batteries but offer nearly 10 times the life cycles and require zero maintenance. Specialized Power System Batteries are the Best LIFEP04 Lithium Batteries in the world at the lowest price possible. Constructed using CATL Brand LIFEP04 Lithium Cells. All of our batteries are guaranteed to be constructed with superior quality.
---
BATTERY MANAGEMENT SYSTEM
Each battery comes with a state of the art Battery Management system, This BMS Protects from Over-Charging, Over-Discharging, Overload, Short-Circuit, General Overload and Temp Monitoring
Battery capacity
Battery Voltage
Battery current( Amps)
Battery State of Charge( SOC)
Battery state of Health( SOH)
Battery Status
Individual Cell Voltage
Battery Temperature
Battery Cycles
CUSTOMIZE YOUR BATTERY FOR YOUR APPLICATION
-Choose Discharge Current and Charge Current
-Custom Case Available for Any Size or Application
-Custom Terminal and Cable Upgrades
BENEFITS OF LITHIUM
There is no question lithium is the superior battery technology for any application. They are lighter, take less space and last longer. While the up-front cost is higher than Gel, AGM or Lead Acid the overall cost of ownership is lower over time because you will never have to replace your lithium battery, and will not require maintenance.
---
---
---
This Battery is The Perfect Building Block For Larger Systems. You can connect up to 4 of these batteries in parallel safely. We will include the cables free of charge and You Will Save Money on Multiple Pieces!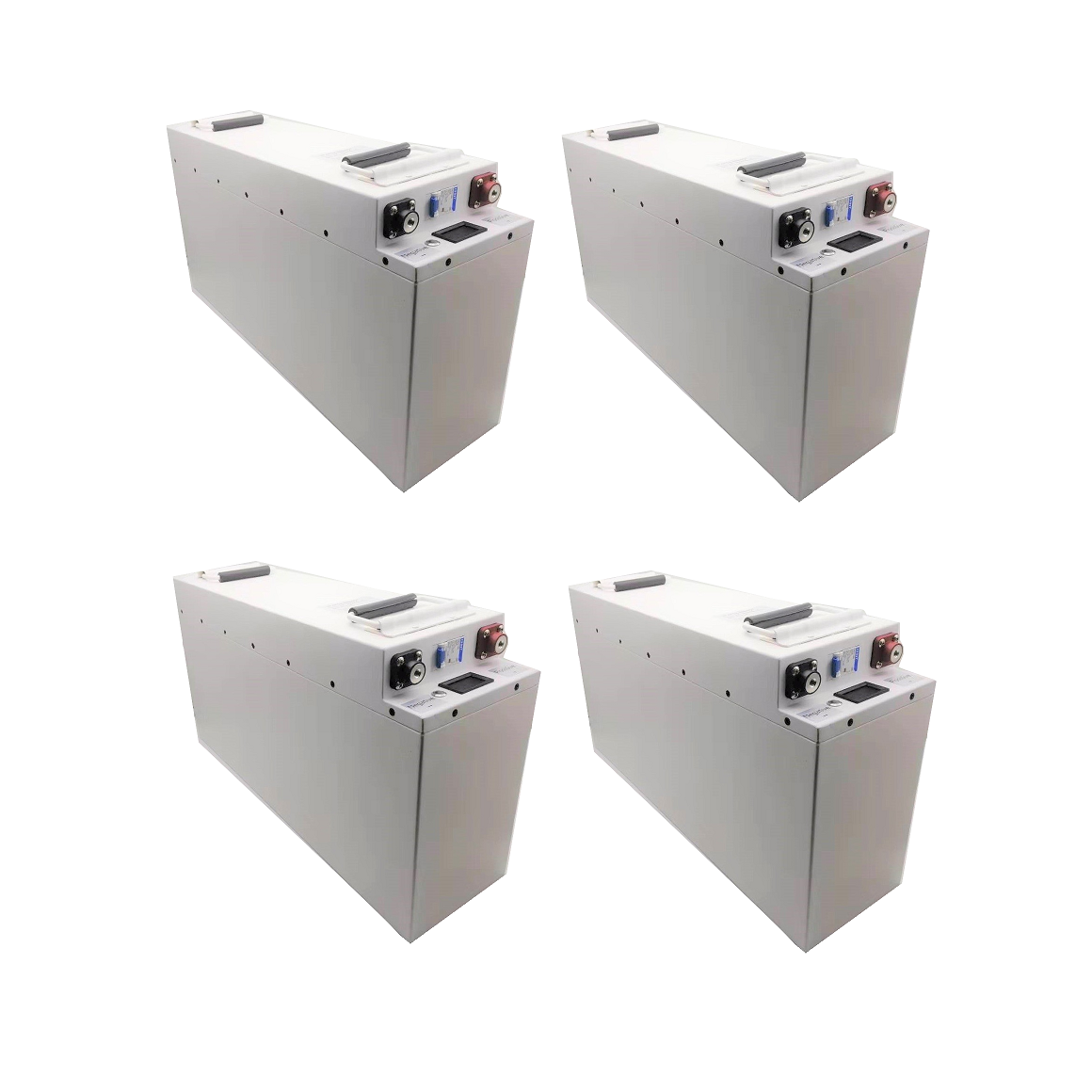 ---
COMPARISON SHOP LIFEP04 BATTERIES
PHI3.8 48V 75Ah $2690 ea
https://simpliphipower.com/product/phi-3-8-battery
LIFEP04 Smart Battery 12V 300Ah $2999 ea
https://www.lithiumion-batteries.com/products/12-volt-lithium-batteries/12v-300ah-lithium-ion-battery.php
48V 100AH Lithium Battery Kit $4,999 ea
https://www.lithiumion-batteries.com/products/48-volt-lithium-batteries/
LIFEP04 Renogy 12V 170Ah $1400 ea
https://www.renogy.com/lithium-iron-phosphate-battery-12-volt-170ah/
LIFEP04 Relion RB48V100 48V $5000 ea
https://relionbattery.com/products/lithium/rb48v100
Lead Acid Trojan 6V/ 400Ah $315 ea
https://www.solar-electric.com/trl16vo225ah.html
---
Additional information
| | |
| --- | --- |
| Weight | 94 lbs |
| Dimensions | 18 × 15 × 12.5 in |
| Shipping Options | 45 Day Free Shipping, 30 Day Express Shipping |
12 Volt 400 Amp Hour Lithium LIFEP04 Battery 12V 400AH
$2,499.00 – $3,099.00
Add to cart